UI  /  UX  /  VISUAL DESIGN
Developed the new feature 'Season Pass' for Two Dots to increase engagement for players across all game modes and mini-games. The progression system is split into two 30-tier tracks, where players must earn a set amount of XP to progress and earn stars. XP is earned through completing gameplay levels and each tier offers a reward for players to actively claim once unlocked. 
We designed this feature with an MVP mindset because of time constraints. I was responsible for the user interface, user experience, and visual design, including character design and seasonal themes, on this project which was done in collaboration with game designers, product managers, and developers.
Season Pass is designed to enhance engagement for players of all types who enjoy the core puzzle gameplay and upcoming non-puzzle minigames in Two Dots. Stars will connect the various gameplay modes and players will be motivated by climbing reward tiers and earning Gold and other inventory rewards.
Free and Premium UI difference
This gif showcases the transition from "Free to Premium" when the animation after the player purchases the premium season pass.
1. Andria's pulley turns into a jetpack
2. Background Shader turns to premium
3. Activate area turns to "Premium Pass"
4. Locked Nodes on Premium rewards unlock.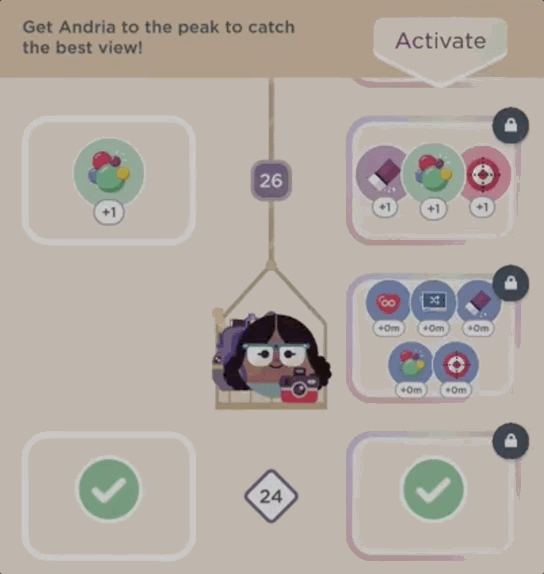 This gif showcases the scroll behavior of the feature, and the animation of Andria claiming the prizes, with cowboy emoji placeholders because this feature is still in development.
Upcoming Dog seasonal theme
Product Manager
Kate Spears
Design Director
Jaclyn McKay
Lead Game
Design Richard Liu
Front-End Eng 
Shannon Hargrave, Dmitriy Slomintsev, Michael Pace
QA 
Dave McLaughlin, Brian Planer